Social Media Management & Marketing
Facebook, Twitter, Pinterest, Instagram, LinkedIn, Snapchat, Google Plus, Tumblr, Flickr, and other social media platforms are all very important branding and lead sources that are made readily available to us in our personal and business life, with millions of users everyday looking for and reviewing local and national businesses. It is up to you to use it properly in your marketing strategy.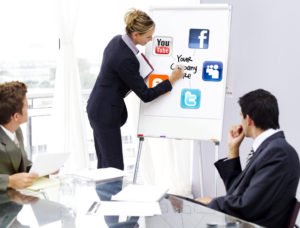 Social Media is no longer just a place to keep in touch with family and friends and browse through pictures. It is also utilized to establish your company online, stay in front of your chosen audience, and provide a secondary and complimentary outlet for getting business online.
With Social Media you get out what you put in, and you need to make sure that you use the best practices to generate and protect business for you company. Social media can be a good complementary tool in addition to having an effective online marketing program, but also can be your worst enemy if it is not managed properly.
When it comes to social media, you must commit 100%. You can not do it halfway, or set up profiles and not maintain them. There is nothing worse then being referred by someone to a social media profile and then going there to contact that business only to find that they do not answer your questions in a timely manner and never update their page. You must do it right, or not do it at all.
So weather you are very involved in Social Media, have a company running your social media, or have no clue about it at all, we can help!
We are a Digital Marketing Agency located in Philadelphia. One of our major services that we offer is Social Media Management & Marketing. There are many different strategies when it comes to social media, with different goals and initiatives for your social media profiles and even your website. We tie that all together through custom social media management and marketing programs for our clients.
Call us today so that we can evaluate your current social media presence and offer you suggestions on how to target maximize your social media by targeting your correct market and getting the necessary reach for them to interact with you online.